The Association for Retail Environements (A.R.E.) is the largest association in the world for businesses that are leaders (or looking to be leaders) in the retail environnement industry. The retail environments buyer's guide features the product, capabilities, and services of some 700 providers of store fixtures, retail design services, equipment, and services. They make it easy for buyers to find out members by name, location, size and materials, as well as by products and services.  Agura is listed either in the printed version of the Supplier Connect Guide or on-line
Click here to visit our page on A.R.E. website.
---

WindowsWear Pro is the world's window display and is now the world's largest fashion visual display and merchandising resource used by top brands, retailers, vendors and universities around the world to create the best visual displays.
They provide data from 30,000+ Windows from 550+ brands across the world. Just as the world's fashion week show case every look of every designer, WindowsWear covers every window of every top brand and some of them are our clients.
Glamour says it's « the Google Earth of store Windows »
Click here to visit our page on WindowsWear website
---

The French Chamber of Commerce and Industry mission is to provide a comprehensive information platform, promote Members' interests to industry leaders and key decision-makers, and offer an extensive range of communication tools.
In short, they connect people, ideas and actions.
Click here to visit our page on French Chamber website.
---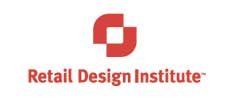 The Retail Design Institute promotes the advancement and collaborative practice of creating selling environments. They are the retail industry's creative professionals, founded to be collaborative community where ideas, knowledge and passion would be shared at a local level and enable it members to fulfill the fast-paced planning and design needs of retail. The Retail Design Institute works with colleges and universities to develop retail design programs. The Retail Design Institute promotes continuing education to improve the skill sets of working professionals. Because education means a lot for us, we are part of the NY Chapter and we like it.
Click here to visit our page on Retail Design Institute website.
---

Design Retail is the industry's leading resource for tracking , retail products and retail projects that are crafting tomorrow's most innovative retail environments. From luxury and fashion brands to discount and dollar stores, the magazine focuses on design strategies, technology applications, in-store marketing, new product resources and global trends that collectively build engaging customer environments in the bricks-and-mortar retail world. Store planners, visual merchandisers, retail designers, independent architects and contract designers working with high-volume retail chains, and top designers, planners and architects designing retail sites for consumer-products manufacturers depend on coverage in design:retail for cutting-edge inspiration, and information on what is driving Design Retail into the future. Agura is listed in their buyer's guide.
Click here to visit our page on Design Retail website.